Description


Fusion Splicer AI-9 use the latest core alignment technology with auto focus and six motors, it is a new generation of fiber fusion splicer. It is fully qualified with 100 km trunk construction, FTTH project, security monitoring and other fiber cable splicing projects. The machine uses industrial quad-core CPU, fast response, is currently one of the fastest fiber splicing machine in the market; with 5-inch 800X480 high-resolution screen, the operation is simple and intuitively; and up to 300 times focus magnifications, making it is very easy to observe the fiber with naked eyes. 6 seconds speed core alignment splicing, 15 seconds heating, the working efficiency increased by 50% compared to ordinary splicing machines.
Main Features:
Industrial quad-core chip CPU

Six motors
5 seconds fast splicing
15 seconds fast heating
10 languages to switch freel

Applicable Fibers

SM(G.652&G.657),MM(G.651),DS(G.657),NZDS(G.655)

Splice Loss

0.025dB(SM),0.01dB(MM)0.04dB(DS/NZDS)

Focus mode

Auto focus

Fiber alignment

Core/cladding alignment Manual alignment

Typical splicing time

5s

Typical heating time

15s

Control technology

Real-time control and calibration of fusion ARC

Return loss

Better than 60DB

Fiber diameter

Cladding Diameter 80-150μm,Coating Diameter 100-1000μm

Fiber Cleave Length

Coating less than 250µm:8-16mmCoating less m250-1000μm:16mm

Heat shrinkable tube

60mm,40mm

Visual Fault Locator

Power:15mw,2hzflashing And Constantly Bright Mode

Tension Test

Standard 2N

Fiber holders

Multifunction holders,Applicable for SM, MM, bare fiber, pigtail, rubber-insulated, multi fiber cable

Magnification

300 for X or Y view, 150 for X or Y view

Screen

5.1inch TFT color display

Software upgrade

Mobile APP update, Turn on Bluetooth sync to the machine

Splicing Mode

Normal / high precision splicing

Splicing record storage

Synchronize to the phone, the server to cloud storage unlimited

Built-in battery

7800 mA high-capacity lithium battery, charging time ≥ 3.5 hours, continuous splicing and heating about 240 times

Power supply

Input AC100-240V 50 / 60HZ, output DC13.5V / 4.8A, the current power mode can be identified, real-time detection of battery power

Operating Conditions

Temperature -15 ~ +50 ºC, humidity: <95% RH (no condensation),
Working altitude: 0 ~ 5000m. Resist max. wind speed: ≤ 15m / s

lighting

External

Optical Power Meter

Wavelength:850nm,1300nm,1310nm,1490nm,1550nm,1625nm
Measuring Range:-70 ~ +6db Absolute Error:<0.3db (-50dbm ~ +3dbm Range)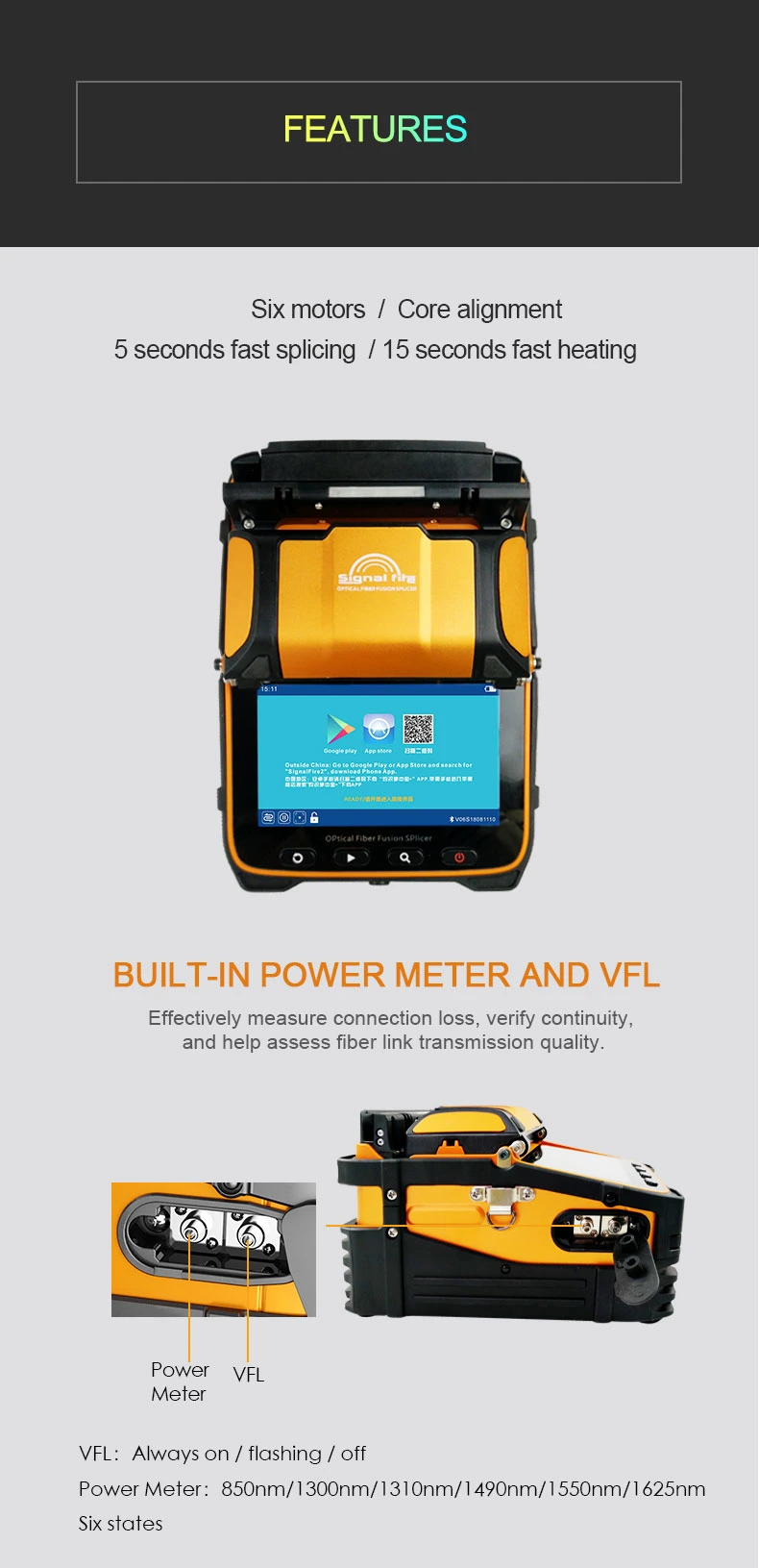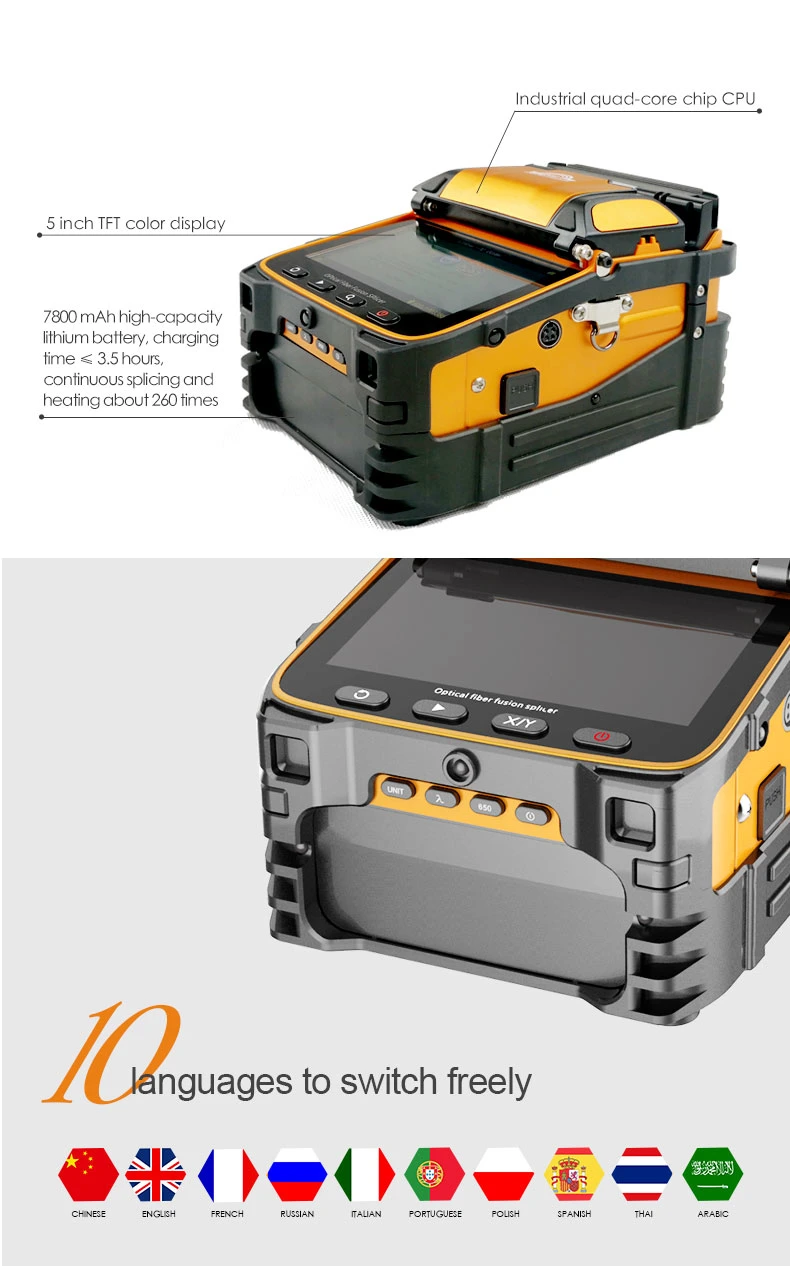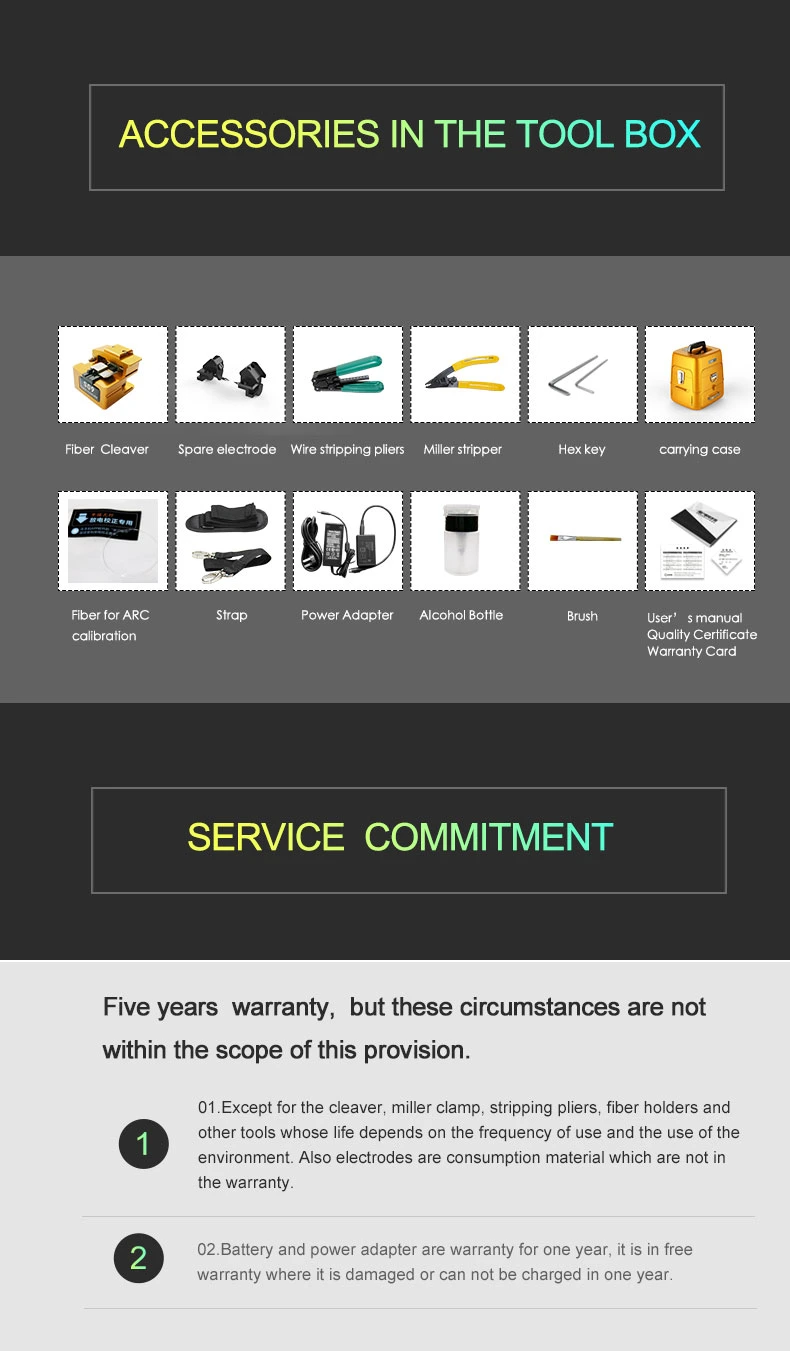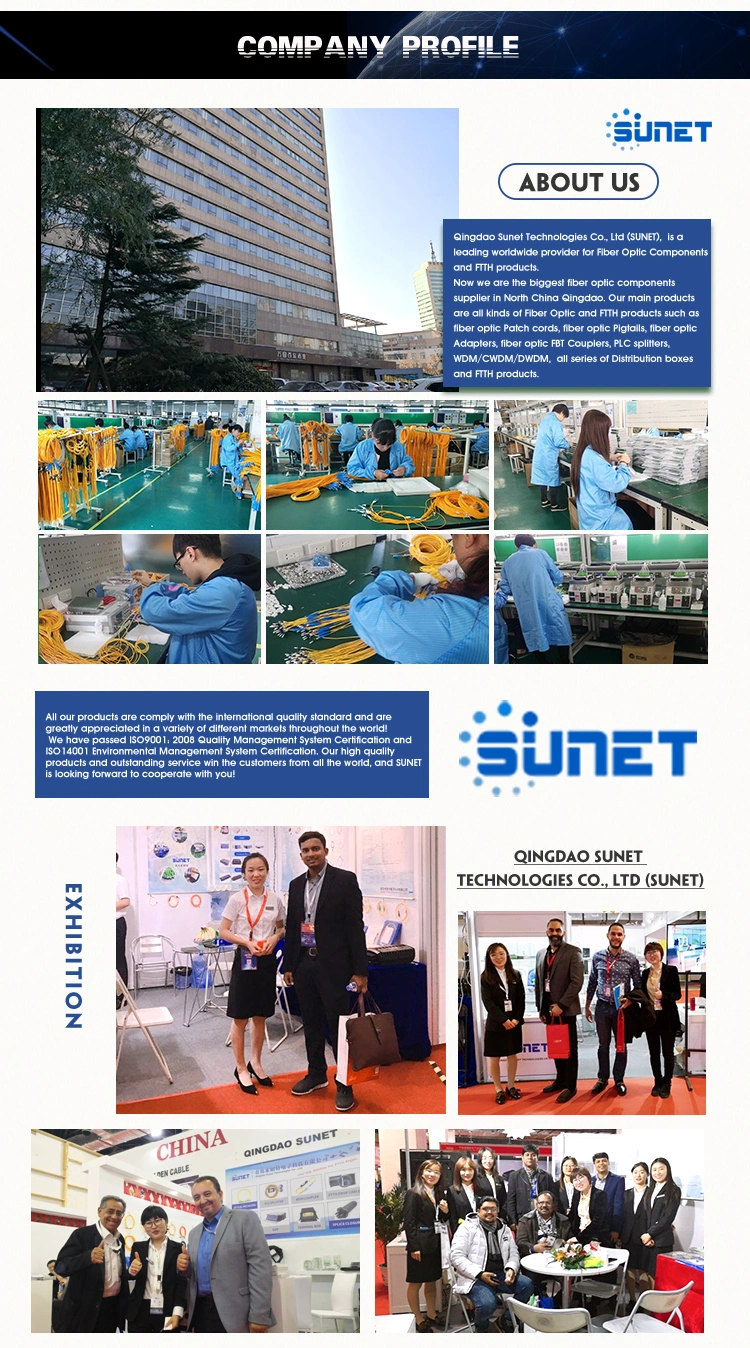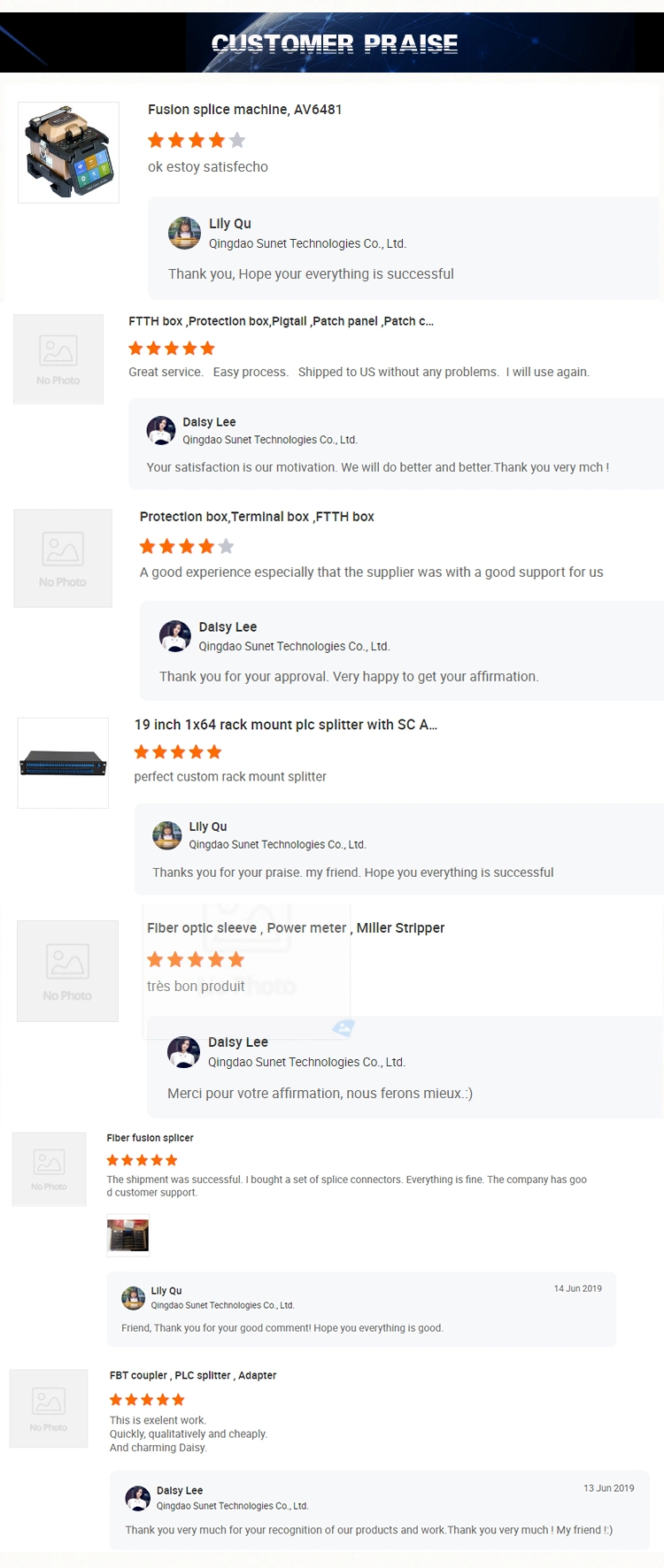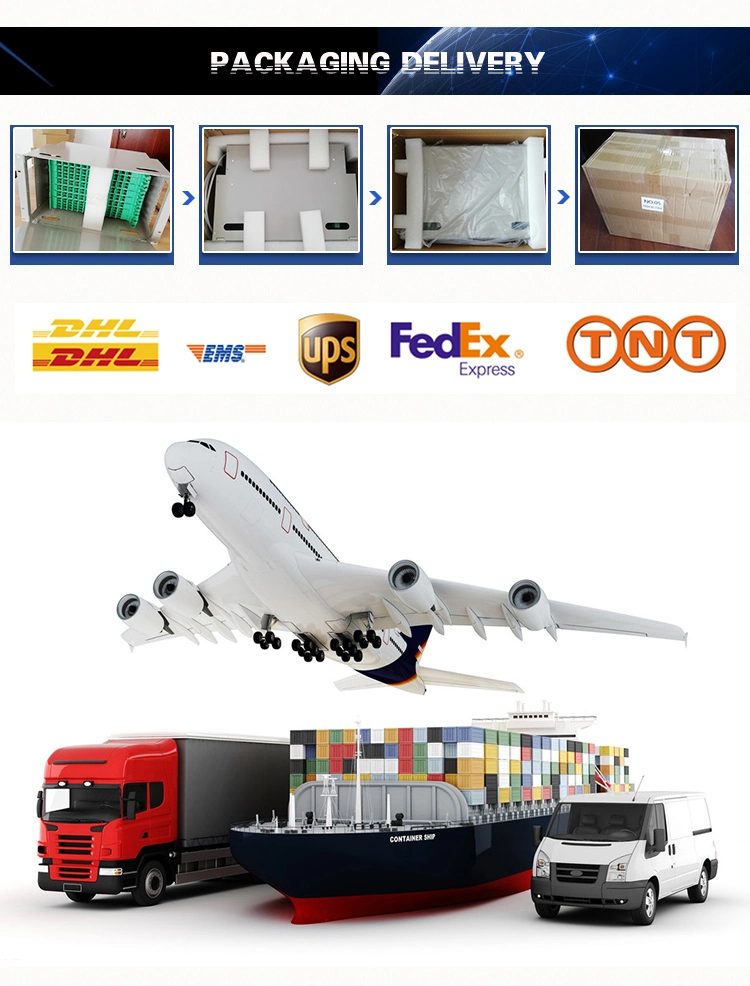 FAQ
Q1.: How can I get the quotation quickly?
A1.: To send your inquiry with detailed spec to our sales email box or call us. Our sales representative will get back to in 24 hours.
Q2.: May I buy samples from you?
A2.: You are welcome to place sample order to test our superior quality and services.
Q3.:How about the price?Can you make it cheaper?
A3.: The price depends on the item your demand(quantity)Beat quotation after receving full description of the item you want.
Q4.: Can you put my brand name (logo) on these products?
A4.: Yes! The professional OEM services will be welcomed to us. Our factory accepts to make the logo free for bulk orders.
Q5.: May I know the status of my order?
A5.: Yes .The order information and photos at different production stage of your order will be sent to you and the information will be updated in time.
Q6.: Can you provide us more other products to us to help us to save more shipping costs?
A6: Yes. There're kinds of Fiber Optic Products we can supply.
Patch cord, Adapter, PLC Splitters, Splice Closure, will be the main products line of Our Factory.

The OEM bulk order will be acceptable as well.