Huasheng Pipeline Technology Co.,Ltd is founded in 1988 ,which specialized in moulding, Precision injection, UPVC,CPVC ,PPH, PVDF,HDPE pipe, fittings and Valves in DIN, ISO, ASTM standards on water supply and industry with ,CE,ISO,SGS,NSF etc certificates.

Our PPH material advantages:
In choosing Beta- [β] -PP-H100, Huasheng Pipeline always adhere to the principle of raw material imports to provided the most suitable material for the system.
We provide a

complete set of

Plastic piping system products: pipes, fittings (socket fittings and butt fusion fittings), manual and automatic valves.
All these products are the same material, and it is accompanied by advanced connection technology and professional t

raining.
PPH SOCKET FUSION TTUE UNION BALL VALVE
Class:PN10
PP-H:PP-H
Gasket:EPDM/FPM O-ring
Ball seat: PTFE
Inserting stainless fixed nut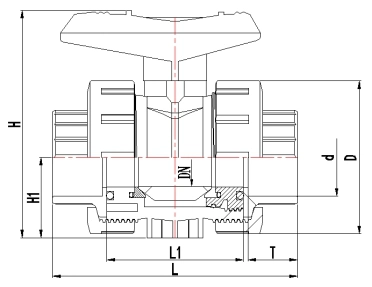 d
[mm]
DN [mm]
D
[mm]
L
[mm]
L1
[mm]
H[mm]
H1[mm]
T[mm]
weight
[kg]
20
15
50.00
93.00
55.00
15.50
17.00
16.00
0.115
25
20
59.00
106.00
65.00
20.50
19.50
18.00
0.18
32
25
70.00
116.00
70.00
26.00
23.00
20.00
0.255
40
30
85.00
138.00
84.00
33.00
27.00
23.00
0.44
50
40
99.00
148.00
88.00
39.00
32.00
26.00
0.61
63
50
125.00
168.00
100.00
51.00
38.50
30.00
1.145